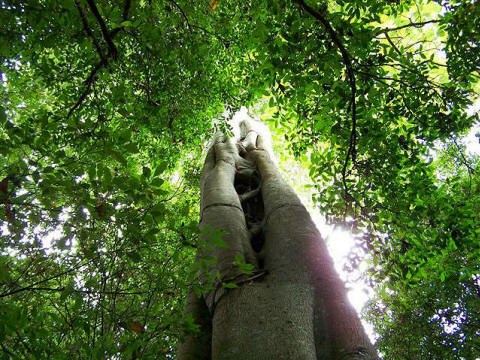 Morton Bay Fig - Wingham Brush - Wingham
Wingham Brush, locally known as 'The Brush' is a nine hectare remnant of the lowland tropical rainforest on the Manning River NSW which once covered many of the coastal floodplains along the coastal region.

In the 1830's surveyor Clement Hodgkinson visited the Manning and other coastal rivers in northern NSW and wrote 'the luxurious and vigorous character of the Brush, on alluvial land in the northern part of NSW cannot be surpassed in any tropical region'

These forests were also known as 'cedar scrubs' due to the abundance of red cedar trees Toona ciliata which were highly prized by the cedar getters. Many of the coastal rainforests were logged & then burnt to clear the land for agriculture.

Around the mid 1800's 'The Brush' was selectively logged for timber, especially the red cedar, but not cleared as it was set aside for a wharf and associated facilities. The remains of two cedar sawpits can still be seen.

The reserve was dedicated for the preservation of native flora and public recreation in 1906 with an addition in 1916.

Regeneration on the Brush began in 1980 led by Dr John Stockard with the clearing of invasive weeds like wandering jew & aggressive South Amercian vines using 'Roundup' with support of the Taree Council. While this method was controversial at the time, it is now known as the 'Wingham Brush Method', a controlled & systematic approach to control weeds in rainforests.

The interpretive walkway was constructed in 1991 by volunteer labour from the Wingham Apex & Rotary Clubs. It was officially opened in April 1991. The NSW National Parks took control of 'The Brush' in 2000 & dedicated it as a nature reserve.

Wingham Brush is famous for the enormous Moreton Bay Fig trees & Giant Stinging trees. There are 135 species of native plants, including 68 different types of trees & 22 vines.

There are 100 species of birds found in 'The Brush'. Reptiles include the Land Mullet, the largest skink in Australia. Pythons are also sighted basking in the sun.

Mammals such as the grey-headed flying fox are found roosting during the day in the tree tops & fly out up to forty kilometres at dusk to forage for food wherever they can find nectar-producing, pollen-rich flowers & fruits. During the 1994 – 95 drought 400,000 Little Red Flying-foxes roosted in 'The Brush'.
National Parks Wingham Brush Nature Reserve leaflet

Giant Stinging Tree
Dendrocnide excelsa
Giant Stinging Tree
Dendrocnide excelsa
Sandpaper Fig
ficus coronata