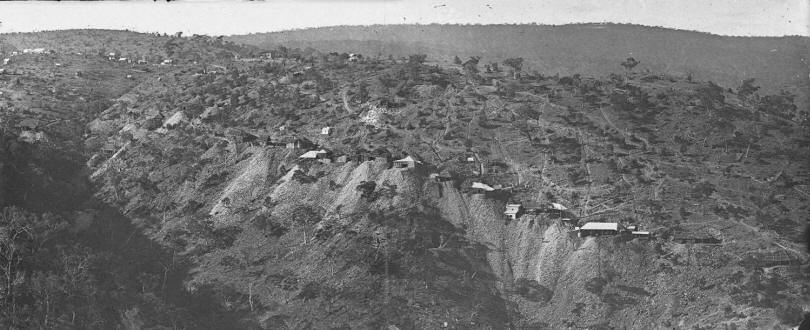 Hawkins Hill during the peak of the gold rush
The Hill End-Tambaroora Gold Field was one of the richest gold mining areas in NSW, and the first reef mining area in Australia. Surface gold was won from Hawkins Hill in 1855 and reef claims were worked along the right bank of Golden Gully from 1859.
In 1855 gold-bearing quartz was worked on the surface of Hawkins Hill by the Rowley brothers, but the existence of a reef extending to depth was discovered by Daddy Nichols, a Cornish miner. This vein was first worked in 1860. In 1870 a five head stamper was erected by Mr Pullen at Hill End. Soon after he erected a modern 15 head stamper near the Hill End Post Office.
There was a slump in the early part of 1871, but fresh finds towards the end of the year led to a bigger gold rush.

Between 1870 and 1872 Hawkins Hill yielded very rich deposits at depths of 40-50m. The deepest workings on Hawkins Hill went down to about 240m. The Beyers and Holtermann nugget, the largest single piece of reef gold ever discovered in the world, was found in the Star of Hope mine on Hawkins Hill on 19 October 1872. It weighed about 286kg, and was worth at least £12 000 at the time.

Production from Hawkins Hill declined during 1873 and no new ore bodies of comparable size or quality have been found since then. During the boom years of 1871-1874 about 8,000 people lived at Hill End and Tambaroora. The total recorded production for the district is over 50 tonnes of gold, 12.4 tonnes from Hawkins Hill alone. After 1874 mines closed down, and prospectors moved to other fields, leaving only isolated mining of old reef workings and alluvial diggings.